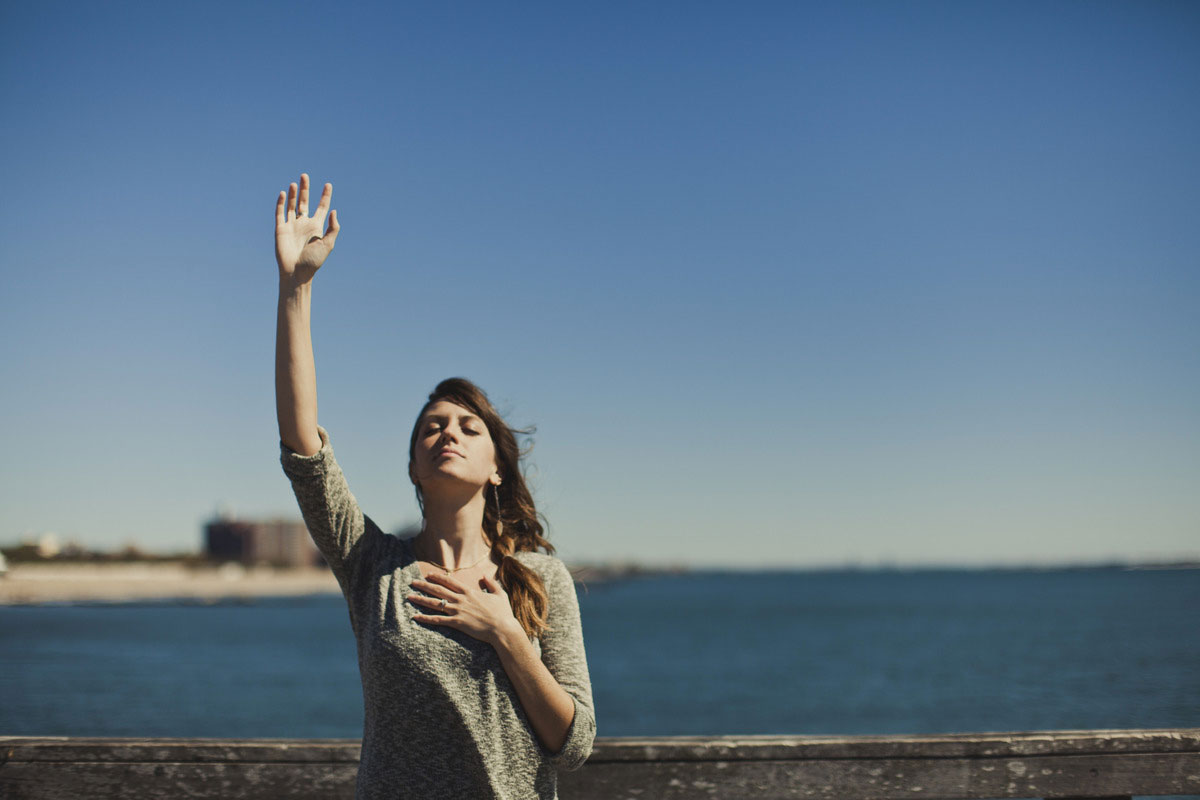 Should I Raise My Hands During Worship?
See if you can figure out where I am in each of these two scenes.
Scene 1:
The music is loud and moving. The crowd seems to pulse with excitement. Most of our hands are up. We sing louder and louder. We reach higher and higher. Some people dance. Some people sway back and forth. A few people sit and soak it all in. We are collectively caught up in a moment of worship.
Scene 2:
The music is loud and moving. The crowd seems to pulse with excitement. Some of our hands are up. Some sing loudly. Some sing quietly. Some do not sing at all. Some people dance. Some people sway back and forth. A few people sit and soak it all in. We are collectively caught up in a moment of worship.
Scene 1 is a concert I attended last summer. As I stood in the middle of a record-breaking crowd of fans, I looked around me and realized we were worshiping. We sang with our whole hearts. We danced. We threw our hands up, trying to grab more of the experience. But we were worshiping a band, not God. At the end of the show, we had simply had an exciting experience, not made a connection with a supernatural God. We still hadn't found what we were looking for.
Scene 2 is from my church on any given Sunday morning. We often respond to the worship in the same way we might a concert or sporting event. We sway with the music. We sing out. Many of us raise our hands. But are we just getting caught up in the experience or is something deeper going on? Specifically, should we be raising our hands in worship, or not?
Confession of A Hand Raiser
Before we dig in to what the Bible says, I want to let you know my preferences. I am a straight up hand raiser. Usually both hands for the entire worship set. It's not that I think this is holier or a sign of the strength of my connection with God. (We'll unpack that in a minute), but I just love to raise my hands to God.
I worship in a non-denominational church. We are fairly conservative and not overly charismatic. People worship in a variety of ways in our group. Some raise their hands. Many do not. Some sit. Some kneel. Some stand. If your church family has a different culture, some of that might seem strange to you. But since this series is about asking "Why do we do what we do?" would you consider looking past your church tradition and digging into what the Bible says about raising hands in worship.
With that in mind, here are five reasons the Bible encourages us to lift our hands.
1. Lift your hand during prayer.
"I desire then that in every place the men should pray, lifting holy hands without anger or quarreling" (1 Tim. 2:8).
2. Lift your hands as a sign of desperation.
"Arise, cry out in the night, at the beginning of the night watches! Pour out your heart like water before the presence of the Lord! Lift your hands to him for the lives of your children, who faint for hunger at the head of every street" (Lam. 2:19).
I'm not surprised this passage is directed at parents, urging them to lift their hands when they pray for their starving children. Mama's know that hands extended is often a sign of neediness. My littlest one, Judah is still a chubby, little baby. When he is scared, he reaches up for me. When he is tired, he reaches up for me. When he is hurt, he reaches up for me. God gives us an image here of physically reaching toward Him as an expression of our desperation for Him.
3. Lift your hands to express your commitment to God's Word.
"I will lift up my hands toward your commandments, which I love, and I will meditate on your statutes" (Ps. 119:48).
Lifting your hands is not a substitute for obeying God's commandments, but the next time you read God's Word, why not try reaching up as an outward expression of your desire to grab on to God's truth with both hands?
4. Lift your hands as an expression of gratitude.
"Let us lift up our hearts and hands to God in heaven" (Lam. 3:41).
Just lifting your hands doesn't glorify God any more than cheering at a football game does. But if your heart is overflowing with gratitude, thanksgiving, or desperation to see God move, you are free to throw up your hands as an extension of what is going on the inside.
5. Lift your hands to bless God.
"So I will bless you as long as I live; in your name I will lift up my hands" (Ps. 63:4).
"Lift up your hands to the holy place and bless the LORD!" (Ps. 134:2).
While the Bible doesn't say why raising our hands blesses God, I imagine that it's probably for the same reasons my heart fills to overflowing when my little guy reaches for me: it communicates that he needs me. It shows that he loves and appreciates me. It is a physical expression that I am big and he is little, and he knows it. Likewise, I need God. I love and appreciate God. I am little compared to God, and I am so glad God loves me anyway. Lifting my hands during worship or prayer is just one way to show this.
Do I Have to Lift My Hands?
The Bible gives us reasons why we can lift our hands during worship, but never says we must express our faith in this way. In John 4:24, Jesus said that God is looking for worshipers who worship Him in spirit and truth. We are called to worship God with our hearts, minds, and souls, not just our bodies. That can include our hands, but it doesn't have to.
Any time we consider how God wants us to live and respond to Him, it is wise to remember the gospel. Jesus' sacrifice on the cross is what made a way for us to have a relationship with God, not whether or not we raise our hands during worship. Raising your hands is not a sign that you are super spiritual or have an extra strong relationship with God. (Remember the concert?) Reaching for God can't bring Him closer to you, He already bridged that gap through the cross.
With that in mind, I'd love to hear about how you worship.
Do you like to raise your hands, or does that make you feel uncomfortable?
What are some physical ways you can express your love and gratitude toward God?