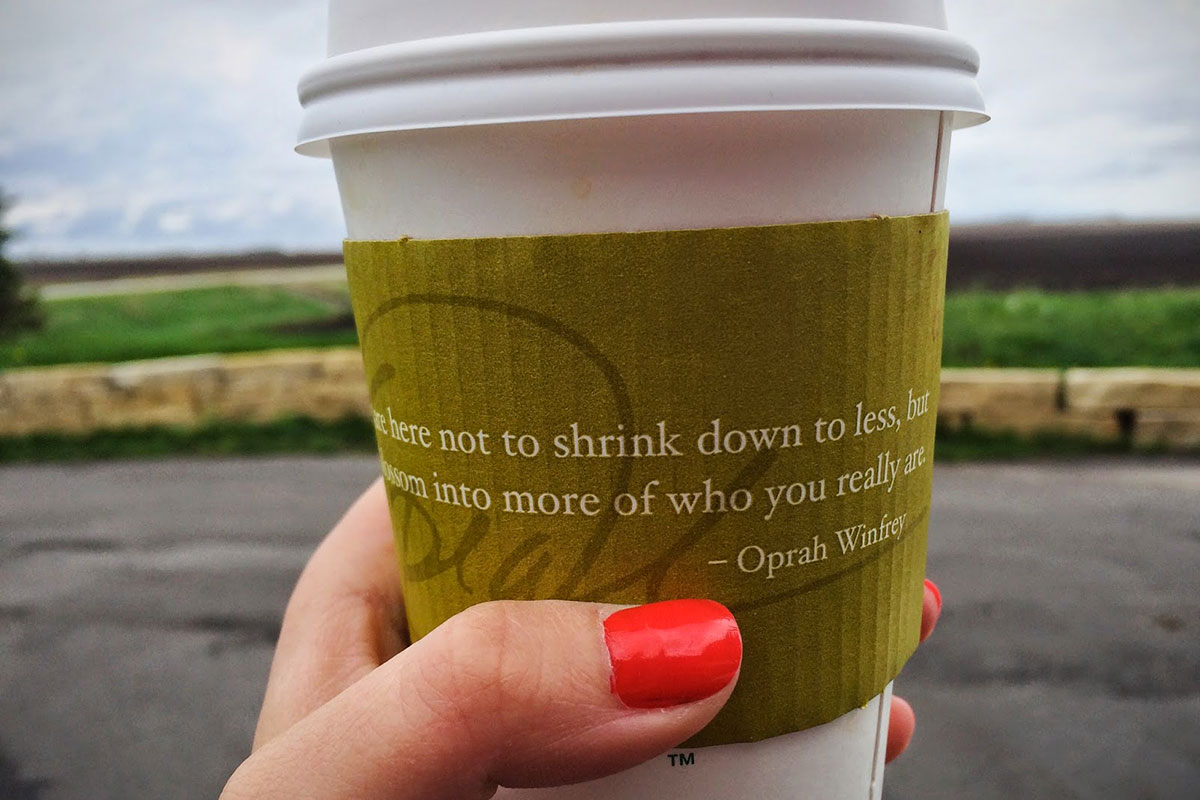 Lies in Disguise – Shrinking down to less
I had a Starbucks gift card burning a hole in my pocket, wanting to be spent on my way to my mother-in-law's for the afternoon. When there is a drive-thru involved and two out of your three kids are sleeping, it's really a great time for an afternoon treat. I ordered my traditional decaf soy latte, but was taken aback at the rather non-traditional sleeve on my coffee cup. So naturally, needing to be on top of Starbucks' latest trend, I decided to read while pulling out of the parking lot. At first glance, I saw an interesting inspirational quote that reminded me of blooming flowers and being who I really am. But, when I noted the person quoted, I decided to read it again with a more discerning eye.
"You are here not to shrink down to less, but to blossom into more of who you really are." - Oprah Winfrey
Why it sounds good:
There is a little voice inside all of us called our sinful flesh. It loves itself. It wants to be gratified and worshiped. Anything it can grab ahold of to feed itself, it will take captive. The idea of shrinking down or becoming less is highly offensive to one's sinful flesh. I mean, we want to blossom, be seen, be known, become like a god in ourselves...don't we? To a heart that wants to be something in this world, this quote seems rather helpful. "Don't shrink back and think less of yourself. Think more of yourself. That's why you are here on this Earth, so that you could pursue your own goals, desires, and dreams and be fulfilled in yourself." Right?
Why it's a lie:
Oprah's coffee cup inspiration is in stark opposition to what the bible tells us to do...
"If anyone would come after me, let him deny himself and take up his cross daily and follow me." Luke 9:23
"I have been crucified with Christ. It is no longer I who live, but Christ who lives in me." Galatians 2:20
"For whoever would save his life will lose it, but whoever loses his life for my sake and the gospel's will save it." Matthew 10:38
These are just a few of the refrences scripture makes to the very fact that we SHOULD shrink down to less. In fact we need to do more than just shrink, we should symbolically "die" to ourselves. The bible is clear that we can't become more of who we really are or should be, until we are willing to utterly give up our so-called "life" to gain a life with God through Jesus.
Why it matters:
Today, our culture subtly (and sometimes not so subtly) tells us over and over again that we should look out for ourselves. That we should put ourselves first and get what we deserve. That the path to happiness and true meaning means giving into our desires and longings. Many Christians digest these truths daily (including myself) and we miss them. People hear...
"I deserve to take a break, I've been with kids and working hard all day. I am entitled to some "me" time." "My husband isn't loving me the way I wanted him to. I guess I just need to stop shrinking back. I should go out and get the life I really want and leave him behind." "I'm feeling down about my life and myself...I must not be taking enough time to do the things I like. I should really focus more attention on me."
These are highly deceptive lies from the deceiver himself! But how often do these things weave themselves in and out of our thoughts, disguised as really good things we should do for ourselves? I am shocked at the number of times each day I catch myself feeling like I deserve something, or I'm entitled to something, or I justify something because I want to and I need the pick-me-up.
But the TRUTH is that our lives do not belong to us, they belong to our creator, God.
The TRUTH is that we were created to worship him and will only be satisfied when we turn our eyes to Jesus instead of looking at ourselves.
The TRUTH is that the more we try to blossom, the more we fail because we can't create any meaningful lasting change in our lives apart from God's transforming work through the cross.
The TRUTH is that we actually need to give up our lives to save them so that God can give us the will and the power to truly blossom fruitfully for his purposes.
Live for truth - the grass withers and the flowers fade, but the word of the Lord stands forever.
Lies in Disguise is a series geared towards identifying unbiblical teaching and thinking, subtly infused into our day-to-day lives. The hope is to encourage others to filter and discern all things through the truth of the Bible.