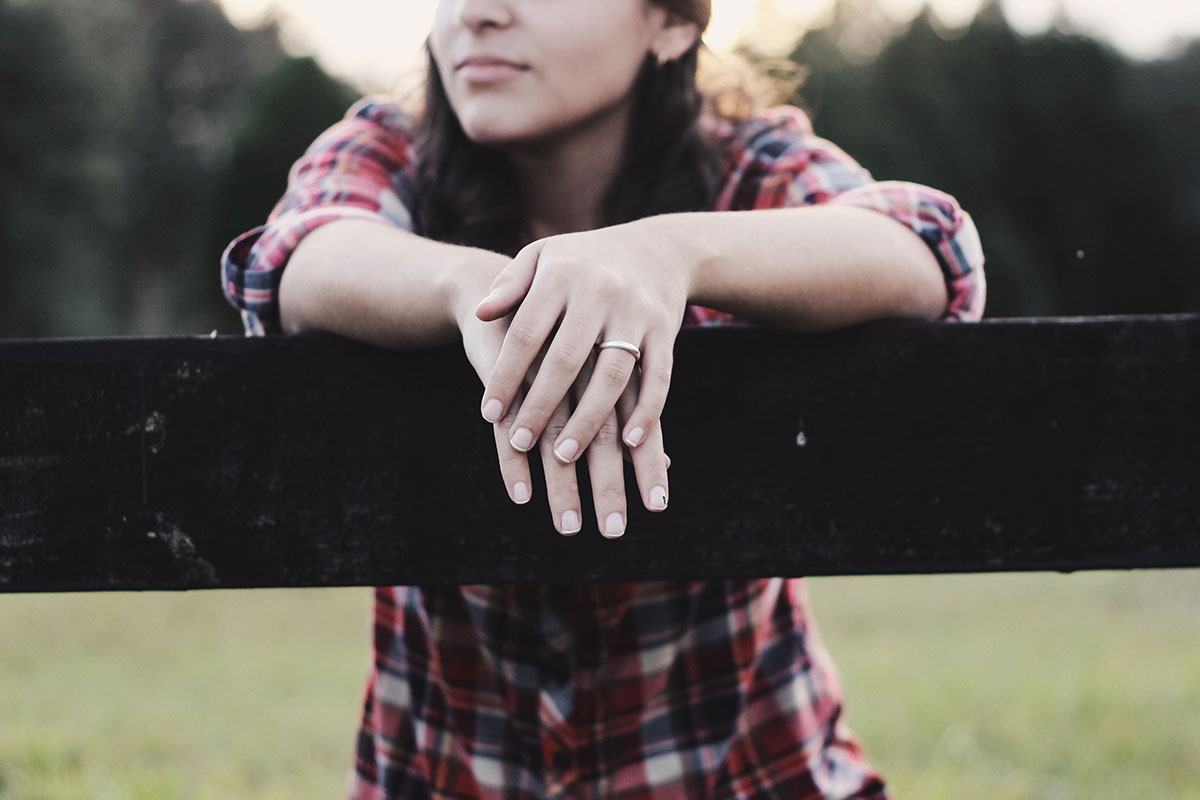 Hope of Glory: Christ in You | Part 1: Justified and at Rest
We are in spider season. They crawl out from under rocks, the kids' outdoor toys, the grill, and flower beds. Just recently a black widow crawled on our infant's bare tummy. My husband heroically smacked it away to its demise, but we went to the E.R. after noticing a visible skin puncture. How relieving that it was proven not to be a spider bite!
The Spider's Web and Our Sin
We were warned to stay away from the strong, chaotic, low webs that the widows spin. I recoiled at the experience and at the evidence of the spider's existence: black, widow, strong, chaotic, low. Everything about the long, twitching legs, and red, flashing hourglass yells "WARNING — stay away!" How fitting for us to use the spider and its ways as an illustration for sin.
Sin is a major theme in the pages of Scripture, pointing us to an awareness of God's holiness, man's sinfulness, and what man must do to be saved. Through Isaiah, God reveals the fallen nature of mankind in this vivid picture: "They weave the spider's web … " – Isaiah 59:5 ESV
Charles Spurgeon draws from this spiritual truth:
"A spider's web comes all from the creature's own bowels. The bee gathers her wax from flowers, the spider sucks no flowers, and yet she spins out her material to any length. Even so hypocrites find their trust and hope within themselves; their anchor was forged on their own anvil, and their cable twisted by their own hands. They lay their own foundation, and hew out the pillars of their own house, disdaining to be debtors to the sovereign grace of God." – Morning and Evening Devotional, August 8
This spider story has become God's warning of the sinful web I often attempt to spin, which is a life built on my own performance. The past months have been heavy with God's refining grace over my life, by way of revealing my doubts, limited mental strength, and fears. As I clambered through those days, the Holy Spirit quickened me to place my hope in Christ and repent of the false hope in my own efforts.
Our Merit Before God is From Christ
Having placed my hope in Christ for the forgiveness of my sins, God responded by declaring me righteous, "not having a righteousness of my own that comes from the law, but that which comes through faith in Christ, the righteousness from God that depends on faith ... " – Philippians 3:9
God's righteousness is indispensable! It is so, because there is no one else to give it. In Isaiah 59, the same chapter in which the spider cunningly spins her web, God promises a righteousness that can only come from Himself. This is the good news of the gospel: "He saw that there was no man, and wondered that there was no one to intercede; then His own arm brought Him salvation, and His righteousness upheld Him." – Isaiah 59:16
No man but Christ can provide vindication to cast the Judge's anvil away from the offense of my guilt-stained sin (Acts 4:12). Paul made this point abundantly clear in his letter to the Romans:
"For by works of the law no human being will be justified in his sight ... but now the righteousness of God has been manifested apart from the law, although the Law and the Prophets bear witness to it — the righteousness of God through faith in Jesus Christ for all who believe ... " – Romans 3:20-22
I do not want to rest on my own laurels (or bowels!), and indeed I cannot. I must rest on what Christ has done: the complete forgiveness of my sinfulness, and the imputed merit of His righteousness. I would be forever fallen and cast from God's goodness and glory had it not been that He extended His own arm for me! This foundational truth has brought me rest in the midst of incredible trials.
When you are in the throes of God's mysterious refining ways, do you struggle to see clearly, as I struggled? Do the webs of your own performance catch you as they did me? The strength and darkness of sin are disguised as defeat, but rest in the truth that they are designed to make us despair of our own efforts and to run to our refuge in Christ, so that " … we who have fled for refuge might have strong encouragement to hold fast to the hope set before us. We have this as a sure and steadfast anchor of the soul ... " – Hebrews 6:18-19
This is the first article of our three-part series, Hope of Glory: Christ in You. We have sought to illustrate justification by Christ's merit and not our own. The next article of the series, "Sanctified and At Work", will highlight God's promise of sanctification as He accomplishes His will in our daily lives by empowering our efforts!