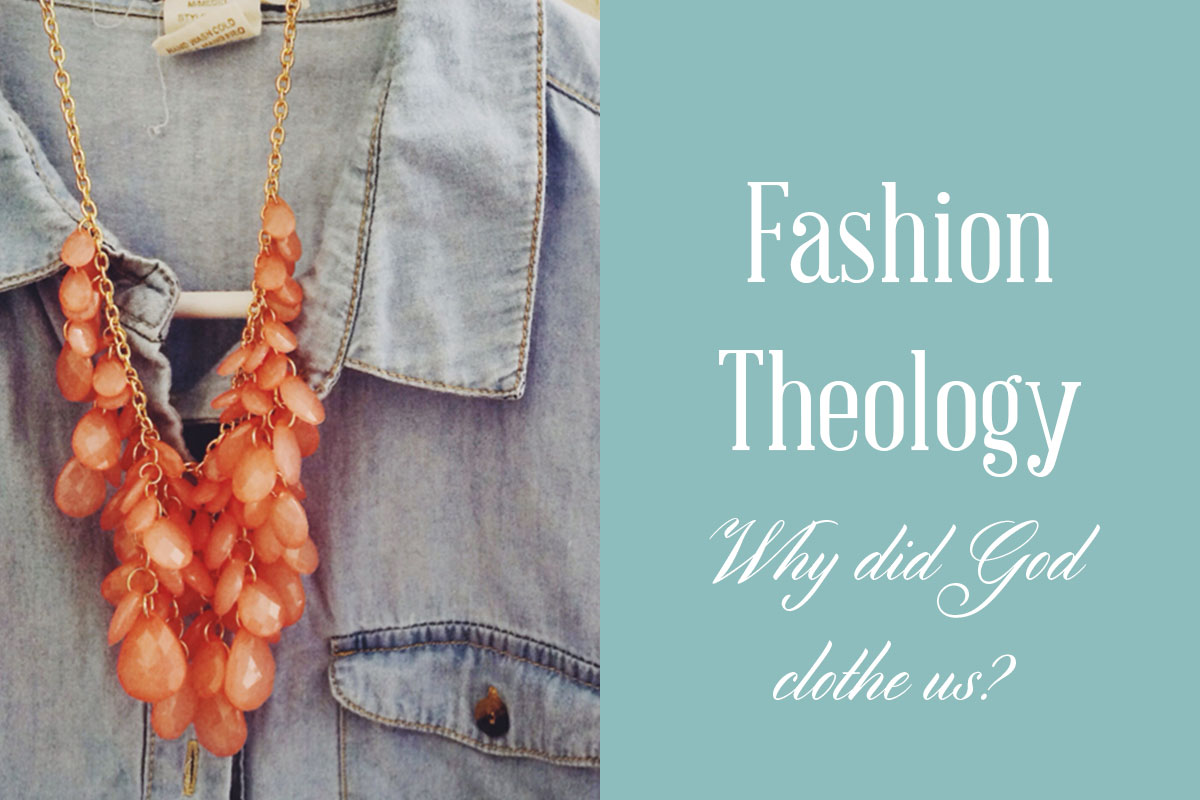 Fashion Theology – Why did God clothe us?
When I shared "my twelve" and asked for some suggestions about things to cover on this blog in the coming year, fashion was something of interest to a few of my readers. You must have read my mind, because fashion is something I've wanted to talk about since I started blogging, but it has seemed like a huge topic to tackle. While I like reading and seeing fashion blogs, I knew "From the Jensens" could never become a place where I regularly chronicled my outfits.
I've been going through a heart change regarding fashion and clothing for a while now. Part of this journey has involved understanding God's original (and still relevant) purposes and intentions for my clothing as a believer.
Clothing to Cover Us
"Why did God clothe people to begin with?"
Adam and Eve sinned and suddenly found themselves hiding from God in shame. Their nakedness was exposing; no longer could mankind be un-covered in front of each other or in front of a holy God. So God, in his mercy and grace, saw their insufficient attempts to cover themselves with fig leaves, and instead shed blood to make clothes for them. He sacrificed animals, and through death he made clothing to cover Adam and Eve. One of the first signs pointing to a savior and a final atonement to cover for sin...
Clothes were meant to cover, and inso doing, reveal God's grace and point to the gospel. The best state Adam and Eve could now exist in was a clothed state. Only in the context of their marital covenant would it be acceptable to show themselves fully. Isn't this a physical reflection of a spiritual truth? That our exposed sins are only acceptable to God as we exist in covenant relationship with Him, clothed in Christ's blood.
But quickly after he created this beautiful picture, clothes became something He never intended them to be.
Clothes were not meant to bring undo attention to ourselves.
Clothes were not meant to cause others to lust.
Clothes were not meant to give us power or stature over others.
Clothes were not meant to consume our time and energy.
Clothes were not meant to replace our inner beauty.
Clothes were not meant to control or to shame.
Clothes were about the gospel.
Clothing to Set us Apart
We present ourselves before others in clothing. And someday, believers will be presented in the most beautiful clothing ever - robes of righteousness with accessories of crowns for our heads, available to cast at the feet of Jesus. So before we go any further towards meaningful application, this is one thing we have to savor because it frames the context for everything else. The conversation about fashion is really a conversation about identity. In the context of our faith, it is crucial to remember our spiritual clothing and to identify ourselves first and foremost with those clothes.
In the spiritual realm, WHAT YOU WEAR MATTERS. You can't wear the filthy rags you were born with in front of God and expect to spend eternity with him. You must put on a new outfit, one provided to you on the basis of what Christ has done. So rest assured, if you have robes of righteousness, you don't need to feel anxious about keeping up with the latest trend. The only one whose opinion matters has already been satisfied. In these robes, God sees you as beautiful. God sees you as he sees Jesus; gentle, radiant, loving, and wonderful. There is no need to impress the fleeting thoughts of man, only a need to rest in what Jesus has already done on your behalf.
These new clothes (given on the basis of Christ's blood to those who repent of sin and believe) show that you have access to the kingdom of God.
They make you free from condemnation, God's wrath, and the penalty of sin.
They mark you as an heir to the same inheritance given to King Jesus.
They can't be taken from you or tarnished.
They won't get holes or go out of fashion, they will last for eternity.
Their beauty is unfading and they were bought with the most expensive price.
Treasuring God's Purpose for Clothing
If you have these robes of righteousness, TREASURE THEM. They are the only clothes that really matter. You are identified first and foremost by them. What you wear on your physical body will rot and fade and burn. No one will remember it. But these clothes matter forever.
As a daughter of the king, you are set apart.
You are in.
You are worthy.
You are righteous and pure.
Nothing you ever have done or will do will stain your gorgeous robes. So love, embrace, and be defined by them. Not by what is in your earthly closet.