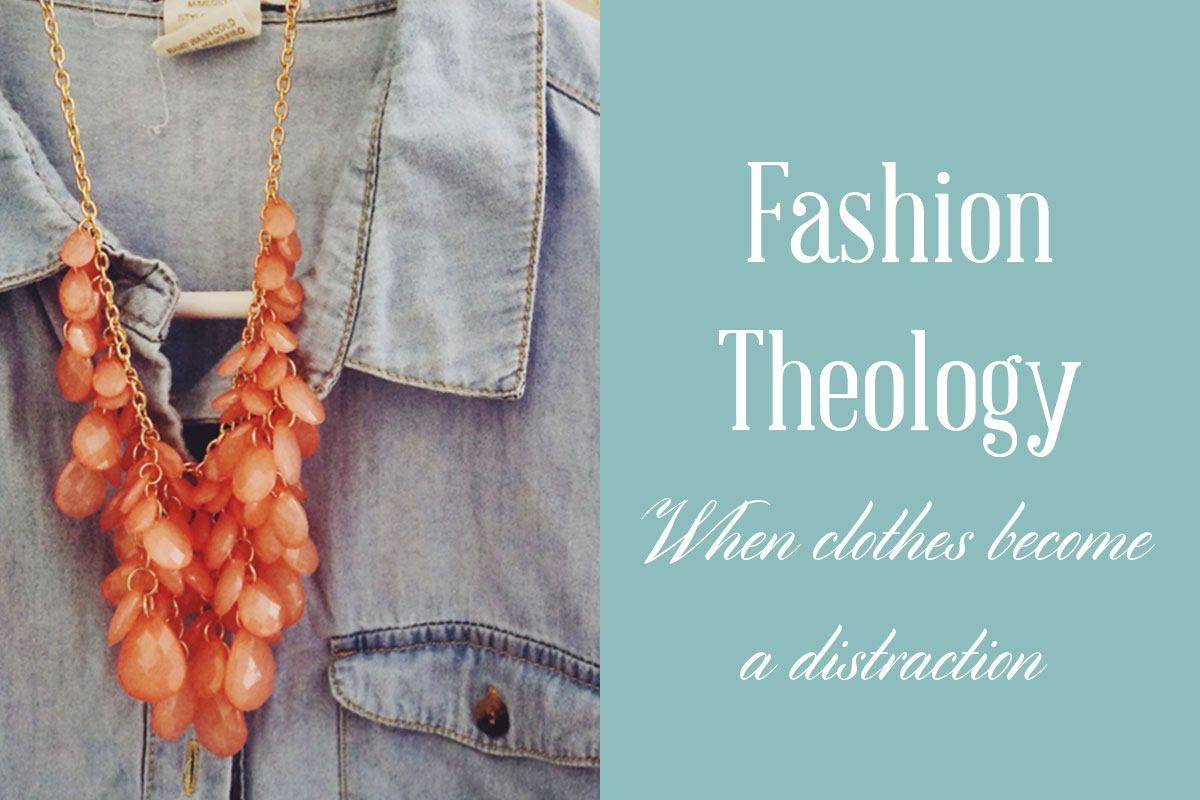 Fashion Theology – When clothes become a distraction
When people see clothing and not Jesus
I will never forget the essence of a quote I heard from John Piper about fashion. This isn't a subject he discusses frequently, so when he addressed it, my ears perked up. He was discussing how, in his opinion, clothes are something that shouldn't draw too much undo attention to ourselves. We shouldn't dress so un-fashionably that people are distracted by it, and likewise we shouldn't dress so fashionably that people are distracted by it. We should seek to dress according to our cultural norms, within the bounds of God's commands, in such a way that it's a non-issue for others. The idea being that they can spend more time thinking about what we are saying (which hopefully glorifies God) than what we are wearing.
I can understand what he means by "distracted"...can you?
We used to go to a wonderful gospel-centered church where most people dressed really urban-cool. The ladies were experts at pairing trendy consigned pieces with the latest style of boots. I don't want to criticize (because they were dressing according to their cultural norms and there is nothing wrong with that), it's MY sin that caused my distraction. But nevertheless, when it was time to leave for church in the morning, due to the fashionable atmosphere, I was more concerned about my outfit than preparing my heart for worship. As we stood and sang the first few songs, I couldn't keep my eyes from scanning the crowds and comparing myself to every other trendy 20-something woman in attendance. Then I would start matching outfits in my head, strategizing what clothes I needed that I didn't have. When it was time for communion, the temptation was at it's worst. The line was a fashion runway, and each perfectly placed belt and statement necklace drew me in. I had a difficult time remembering to focus on Christ. Although God used that church to do amazing things in our lives and we have some dear friends that attend there, I'm sometimes a little bit relieved to not be in that battlefield anymore.
I can think of other times as well when I have met people who exceed the local fashion standards and even though they are Godly and have a soft heart, initially, I can't see it. All I can see are their clothes. It takes time to move past their exterior and begin to hear and see their heart.
When people look at me, who do they see?
I've spent a lot of time thinking on these things. I know there are not clear answers, and every heart and culture have vastly different standards. This isn't something to over-spiritualize or over-think. Not everyone is tempted by this type of comparison and not everyone is distracted by clothing. But I've found myself asking some questions...
What if the way I dress distracts people from Jesus?
What if people spend the first 5 minutes of our conversation thinking about my boots and my shirt and not about what I'm saying?
What if someone who doesn't know me assumes I don't love God because I look too much like the world?
What if I lose my credibility to speak about Jesus because other Christians think I'm too pre-occupied with appearances?
This can have strong implications, so I want to be cautious here. It's not my responsibility to put on my clothes in the morning, hoping to stop anyone and everyone from being tempted to sin. I can't control the hearts of others, and it's not completely my fault or my problem if they judge me. I don't need to make clothing choices out of fear of man...but at the same time, I can't help but wonder, "If I can prevent someone else from stumbling by prayerfully considering how my wardrobe might affect them, shouldn't I?"
Shouldn't I ask God, "Do my clothes allow people to see me or to see You?" or even scarier, "Do I sometimes secretly want people to be distracted by my clothes, thinking more highly of me than of Him?"
Overall, my guess is that the implications vary wildly from person to person. And in the end, what we wear on on physical body matters less than the state of our hearts. But I think these thoughts are still worth discussing and worth submitting to the Lord. For those of us who are distracted by other people's fashion choices, we should seek to take our thoughts captive and refrain from judgement. After all, believers are free to dress fashionably. And for those of us who dress in a way that might be distracting to our peers, we should be thoughtful about our choices and let our heart's desire be for God's glory and not our own.
What about you? Do you regularly find yourself distracted by fashion when you should be looking at Jesus?