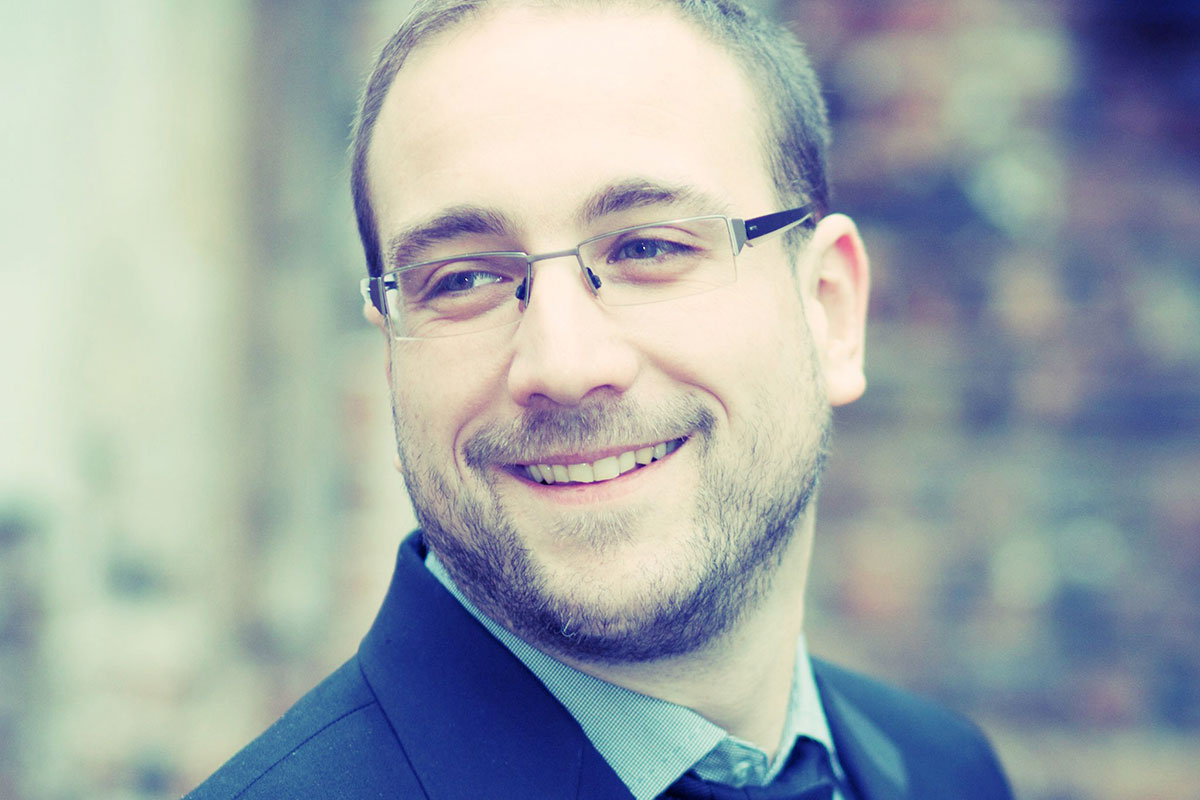 A New Creature: Guillaume's Testimony
"He brought me up out of the pit of destruction, out of the miry clay, And He set my feet upon a rock making my footsteps firm." Psalm 40:2
My name is Guillaume and I live in the Paris area. I was born in 1979 into an atheist family with a Catholic background on my father's side and Jewish on my mother's. However, my parents always explained to me that God did not exist. This did not stop them from being exemplary parents both in terms of morality and the love, which they showed to me during my childhood and adolescence. The same cannot be said of me however. As far as I can remember, I was a provocative and difficult boy with a rebellious streak against all forms of authority. When my little sister was born when I was 7, I was extremely jealous of her and often tried to hurt her.
My grandfather died when I was 10, and I then realized that life has an end and became very afraid. I also think that this was the time when I discovered an infinite emptiness in my heart. From then on I tried to fill this space with all sorts of things, especially the worst sort. For this reason I always tried to mix with the most popular people in my school. Very often they were not the most desirable company, and bitter consequences followed. At 13 I began smoking cigarettes and at 16 I was using cannabis. Along with this was violence at school and at home against my parents and my little sister. As time went on my morals were getting lower than I could have imagined.
To go back in time for a moment, when I was 11 an art teacher suggested that my parents should send me to a Christian camp. When I arrived there I discovered people who really seemed to like me despite all my failings –very different from my school teachers and classmates who could not stand me. These people had something different about them compared to the great majority of people that I knew. I couldn't put my finger on what it was, but I greatly respected them. It was with them that for the first time I heard about Jesus Christ who loved me, who wanted to meet me and above all who was able to save me from this death that I so much feared.
My parents sent me to these camps for several years, no doubt seeing the good influence that all these Christians were having on me. One in particular often came to visit me at home and took me regularly to the young people's group in his church.
By the age of 17 I was already deeply involved in drugs and violence. I was mixing with young people from a block near my parents' home and was myself a very unsavory character. It was at this time that I decided never to go back to the church and that I began drug dealing on my own. By the same token I stopped seeing Joel, my Christian 'big brother'.
I left home at 19 and became a dealer in cannabis for a living. I formed friendships more and more with people in criminal circles. Some of them are still in prison as I write this and are not ready for release as their offenses were very serious. I myself had become a dangerous person. Solely driven by the desire to make money and indulge in sordid affairs, I had no real friends and thought only of stealing or crushing my closest relations. I think I was a bigger cheat and more evil than most of the people I knew. Thinking again about this whole period, I can say that if I had carried on for a few more years in this circle someone would have killed me or even I would have killed somebody. I really was completely opposed to those Christians that I had met in my youth.
In 2003 [when I was 24] I was arrested by the French police for drug trafficking and selling contraband cigarettes. I was put in Fleury-Merogis prison, one of the largest in Europe. It was then that I began to read my Bible and pray, often asking God for the strength and will to be an honest person. And I told God that I wanted to be just like my friend Joel. I hadn't seen him for 8 years, but he was still the model of an upright person. I also wanted to have the courage to go back and see him after all these years. However to me the Bible was simply a collection of rules to be obeyed in order to be like my friend.
When I came out of prison I forgot my good resolutions. Only 2 things mattered-retrieve my money and get revenge on the people who told the police about me. One evening a few days after my release whilst I was at my parents, someone knocked on the door. My mother opened it and it was Joel. I couldn't get over it. While I had prayed for the strength to see him again but had failed to do it, there he was – he had come to me. He was equally amazed to see me as he had just come to see my parents because he was in the area on a visit. He never normally came to this part of Paris. As I told him my story and he listened closely to me, I had a strong desire to go back to the church, just to see. It had been so long…
The following Sunday I was sitting next to him and listening to the pastor preaching, my Bible open. And something new happened then and during the following sermons: the Bible was speaking to me directly. Before I didn't understand it, but from then on it was as if God was opening my heart and letting me understand His words. And without anyone saying anything to me at all, I realized how far my lifestyle was from the moral values of God. I understood just how awful my behavior had been, but I also came to see who Jesus was, and the purpose of His work on the cross. I had never really understood that it was for me personally that He had given His life and borne so much suffering. From then on, as I was able to understand the Word of God, I finally realized what I deserved in God's eyes. At the same time I grasped that in His love, he had wanted to save me by giving His Son for me on the cross. I felt the urgency of the situation that it was a kind of one last chance. I made up my mind concerning Jesus Christ as I had the sense that never again would I have the opportunity to do this.
At that moment I made a radical decision to follow my Savior until the end of my days. And I was prepared to give up everything for this. The first thing, which I let go of, was the money that I planned to recuperate on leaving prison. With great joy I left it to those who owed it to me, and I considered it lost. Then God miraculously delivered me from the influence of drugs [of which I was a heavy user] and from cigarettes. And as if that were not enough, the Lord began a work in me which continues to this day; a work of reconciliation. Thus I was able to ask forgiveness of my parents, and even more amazing, they accepted my request and forgave me, me who did them so much harm. We now live in peace. I was also able to repay a young girl the money, which I had stolen from her, and ask forgiveness of many people that I had hurt.
I was able to find work, and earn an honest living, and have real friends in my brothers and sisters in Christ. But above all God has forgiven me. I am assured of that. All my sins are wiped out. I am whiter than snow as the Bible says. Not because of some good work of my own, but because Jesus Christ who was perfect gave His life for me, the imperfect one so that I might be washed clean of my sins. And it is for this reason that I can be sure that when I breathe my last, I will be found in God's presence in heaven and that I will spend eternity where He reigns in such joy and happiness that no words can describe.
My prayer for you who read this is that you may be able to have the same experience of meeting the One who gave His life for you. And that we may be able to spend eternity in heaven together, rejoicing in the presence Of God.
"Many, O LORD my God, are Your wonderful works which You have done; And Your thoughts toward us cannot be recounted to You in order; If I would declare and speak of them, they are more than can be numbered." Psalm 40:5